Words and Photography by: 
Mr LB
One of the great aspects of Chapel Street is its ability to change. With it strong traffic of people always milling about, it makes for one of the most desirable retail spaces in Melbourne. However, if you don't find yourself successful on Chapel Street, you will soon be find yourself being faced with eviction. With this, comes new incumbents and fresh ideas. Instead of just another boring retail store, it's a specialised bespoked bike store or a restaurant committed to a unique cuisine done well. The current new kids on the block of the Windsor side of the Chapel street, is Sauced Pasta Bar. The concept is simple, providing only the freshest pasta and unique choices of sauce that is healthy and quick.
The decor takes its inspiration from an industrial and minimalist look.  The walls are stripped back and painted white which gives a warm and welcoming feeling. This is complemented with an exposed brickwork acting as the feature wall to the communal tables, with industrial light bulbs suspended from the roof. The space is diverse enough to allow the solo diner to dig in some pasta with his thoughts or for catching up with a few friends for a casual dinner.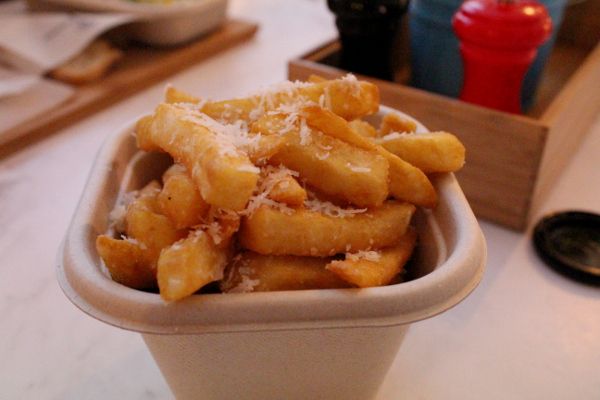 Parmesan dusted chips
It's all about customisation with Sauced Pasta Bar. The idea is to build your own pasta dish with choices of fresh pasta, slim pasta or raw pasta (a vegetable-based pasta for those who are gluten intolerant), pasta filling (with choices of ravioli or gnocchi),  with a classic sauce or gourmet option. You have all the power to meet your necessary desires and inspiration – whether it's to go out on a limb or stick to the classics. There is a small and regular option, with the regular containing 175 grams of fresh pasta or five pieces of ravioli, which is good value for a price tag of $14 / $15.
Field mushroom Ravioli with Cream fraiche, green peas and lemon.
You can take the adventure route, Field mushroom ravioli with cream fraiche, green peas and lemon. My friend really liked the Ravioli filling but thought there could have been more of the lovely creamy sauce. With that said, he was quite impressed with the quality of the food for its price point.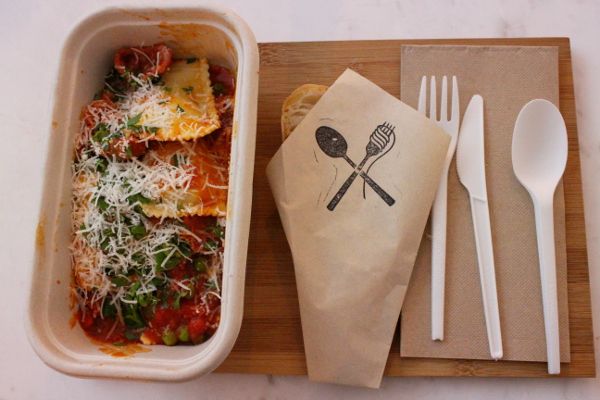 Sweet potato & sautéed leek Ravioli with The new Napoli, chorizo, smoked paprika and green peas
I was drawn to the vegetarian ravioli – Sweet potato & sauteed leek Ravioli with The new Napoli. Chorizo, smoked paprika and green peas. The red sauce had a rich tomato flavour that left a nice zingy taste on my palate. The peas and chorizo combination worked surprisingly well, with the peas added burst of moisture and the chorizo being the necessary meaty component. It was of the right portion and I overall really enjoyed the authenticity of the Italian dish.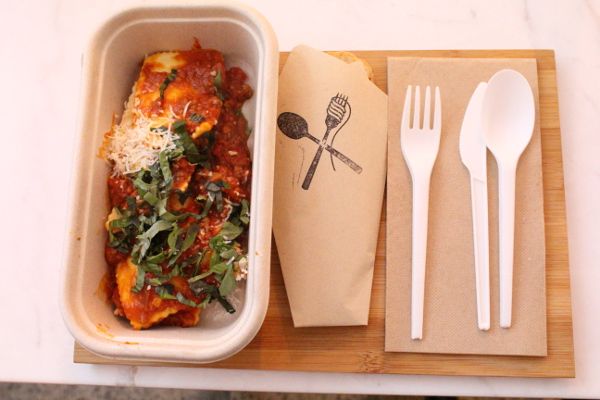 Sweet potato & sautéed leek Ravioli with Napolitano. Tomato, fresh garlic & basil
Alternatively, you can take the inspirational ravioli with the classic Napolitano sauce. Nothing wrong with a good classic.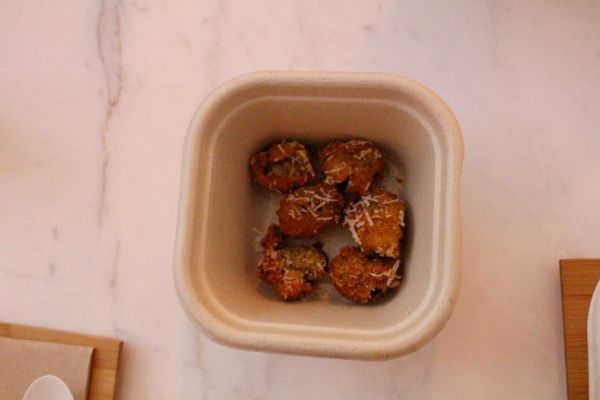 Crumbed stuffed green olives
If there is one 'must have' menu item, it can be found in the sides – Crumbed stuffed green olives. These olives are super tasty and are very addictive. They are lightly battered with a crunchy flavour exterior, opening up to the flavours of the moist green olives inside, still retaining it's natural oils. If the olives don't grab your fancy, then the Parmesan dusted chips are also delicious. Both are the perfect sides to the main.
There are some positive signs coming out of Sauced Pasta Bar. Not only is it a healthy and quick pasta bar with a take away option, but the ingredients used are authentic and tasty without leaving you feeling like you are eating rubber. Whilst only being two weeks old, there are certainly improvements to be made. I would have preferred to have metal crockery and not have eaten out of biodegradable containers. Plus, a beer would have been perfect (liquor licence application has been filed). But with time these minor issues can be ironed out. One thing is for certain though – this concept is exciting, novel and should certainly be given a good go.
Opening Hours:
Mon – Sun 11am – 11pm